PokerStars allows real money players to transfer money to one other through their 'transfer funds' service. PokerStars offers a better money exchanging service than most other online poker rooms. Money transfers are usually done within ten minutes, with most being completed under five minutes. When looking to trade money to another PokerStars real money player you will need their Player ID and the city they live in.
Not Satisfied With PokerStars? Click Here To Get a $600 Bonus at Full Tilt Poker
Below are the instructions for transferring real money on PokerStars: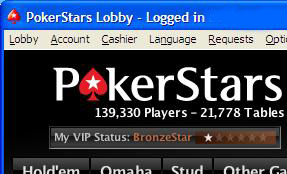 1 - Open the PokerStars software and log in to your real money PokerStars account. If you don't have a real money account at PokerStars visit our PokerStars Marketing Code page for details on exclusive free $600. Once the PokerStars client has loaded up you will see a selection of drop down menu's along the top of the software (Lobby, Account, Cashier, etc.), click on the 'Requests' drop down menu (See picture).

2 - When the 'Requests' menu drops down you will see a list of many different options. About 3/4 of the way down the list you will see 'Transfer Funds...', click this. After you have clicked on the transfer funds option you will see that a form pops up. This form will ask you how much money you would like to transfer and the player ID of the player you are looking to transfer money to. Make sure you spell the Player ID correctly to avoid any problems. Click on 'OK' when everything is correct and you are ready to transfer the money.

3 - Another form will pop up asking you this "Are you sure you want to transfer $XXX amount to player: XXXX (City)". This allows you to confirm you have typed in the correct amount and it also gives you a second security check. The players city will show up in brackets next to the name to make sure you have entered the right player user name. When you are 100% sure you are ready to transfer the funds click 'yes'. If your account and the recipients account are both legit the money will be transferred within ten minutes. Each of you will receive an e-mail letting you know the cash has been exchanged.
Use the PokerStars Marketing Code for $600 FREE
PokerStars money exchange services are just another reason they are a top poker room. Please be sure you know who you are transferring money to, as trading to a member with a bad background can freeze your account. PokerStars support is really good at detecting cheating, scams, thief, etc. Players will also find other cool features at PokerStars such as play money chip transfers and an option to trade tournament money that you have won. Good Luck at the tables!