PokerStars Marketing Code August 2018 - KOW500
PokerStars offers new players a $600 first deposit bonus when using the PokerStars Marketing Code "KOW500" and the bonus code "STARS600" (More on where to enter these below).
The first deposit bonus is a 100% match bonus up to the maximum of $600. For example, if a player were to make a first deposit of $100 using the marketing code and bonus code they would receive $100 in free bonus money from PokerStars. On top of the bonus money players will also receive tickets into special freerolls that are worth more than $10,000.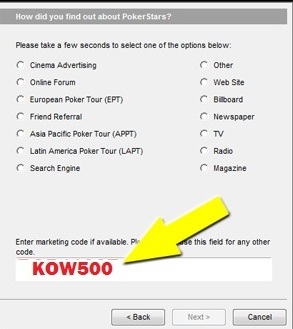 Where do I enter the PokerStars Marketing Code?
The PokerStars marketing code is entered when you are signing up for a new account. In the middle of your registration you will see a form that asks how you were referred to PokerStars (It will list off a bunch of options such as friend referral, TV, website, etc.). Click on website and type in BonusPokerReview.com. At the bottom of the form it will ask if you have a PokerStars marketing code. This is where you enter KOW500 to receive your $600 in bonus money.
Continue you on with your registration until you are ready to make your first deposit. When you come to the cashier you will see a field for a bonus code. This is where you can enter the bonus code "STARS600" to ensure you receive your bonus money. Remember the PokerStars marketing code step is the most important step to receiving your bonus.
Marketing Code Clearing Conditions:
The PokerStars marketing code bonus is subject to some simple clearing conditions before players will receive the bonus money. Just like any other poker room this is done to prevent fraud from players. Players will be awarded with FPPs (Frequent Player Points) when playing that will go towards releasing the bonus money. FPPs are awarded through playing at the real money cash games and tournaments. Players must collect 17 times the bonus amount in FPPs to receive their bonus.
For example, if your bonus is $100 you will need to earn 1700 FPPs to release your bonus. The bonus will be automatically deposited into your player account balance.

Why does PokerStars give away free money with the marketing code?
PokerStars gives away free bonus money to their new players who use the marketing code in order to attract new customers. Being the largest online poker room in the world they are happy to grow even bigger. The first deposit bonus is sort of like a gift for players who chose PokerStars over the other online poker sites.
Does it take long to receive the PokerStars marketing code bonus money?
The bonus is released in $10 increments, which is fairly easy to release. If you are playing for a few hours at the real money tables at PokerStars you will the bonus will come fairly quickly. With that said it really depends on the stakes you are playing and how fast/often you are playing. FPPs aren't difficult to collect at PokerStars when playing tournaments and cash games. This PokerStars bonus is good for all of 2010, enjoy!
Remember to use the PokerStars Marketing Code "KOW500" when signing up for a new account in order to receive your $600 in bonus money.
Visit PokerStars.com to play now.
Or read our PokerStars Review to learn more about the room.