PKR has launched a very exciting "Deal or No Deal" game based on the popular TV show. Players at PKR can play for fun or for real money in the game where they must choose a box with a large cash prize and eliminate the lower prizes, forcing the banker to award you a high prize.
PKR does not accept US Players. For a US friendly casino visit www.RushmoreCasino.com!
Visit PKR Now To Play Deal or No Deal For Real Money!
Use Bonus Code HUGEAP When Signing Up For $600 FREE!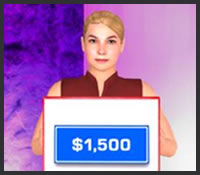 Real money players can choose to play from stakes as low as $0.50 up to $100 per game. The highest payout available is 10 times the stake of the game. Here are some examples of buy-ins and the top prize:
$0.50 - Top Payout -> $5
$2 - Top Payout -> $20
$10 - Top Payout -> $100
$100 - Top Payout -> $1000
Rules:
Choose your box - to start the game you will choose one of 26 boxes that you think contains the highest payout.
Reveal boxes - next you will reveal 6 boxes that you think have a low payout, revealing low value boxes will force the banker to offer you a higher price.
Bankers deal - the banker will offer you a mathematical based deal that you can choose to accept or deny and continue playing.
Reveal more boxes - the game will continue as before and you will keep revealing a certain amount of boxes each round.
Final two boxes - if you have made it to the final two boxes without a deal you will have the option to swap boxes. The final box you choose will then be opened and you will win the prize amount in the box.
Prize money - The prize money for the PKR Deal or No Deal game will be directly deposited into your PKR account where you can continue to play Deal or No Deal or play at the Casino and Poker tables.
Visit PKR.com to play now and use bonus code PK800 .