Some people may think that playing online poker at PokerStars for real money is difficult to do, while really it is quite easy. At PokerStars there are many deposit options available to players that are looking to play for real money. Players from almost anywhere in the world can deposit real money at PokerStars.
If you can't find a cashier in the PokerStars lobby you have probably downloaded the PokerStars.net (Play Money) version. Visit PokerStars.com to download the real money version and use the marketing code KOW500 when signing up for a Free $600.
Below are instructions on how to deposit real money at PokerStars:
1 - Open the PokerStars software and log in to your account. If you don't have a PokerStars account and would like a free $600 bonus when signing up visit our PokerStars Marketing Code page for more information. Once the PokerStars software has loaded up and you are logged into your player account you will see a red rectangular button in the bottom right that says 'Cashier', click it.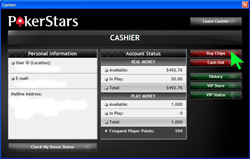 2 - After clicking the cashier button a cashier lobby will pop up. This is normally where the amount of real money you have in your account will be displayed. For now you probably just have play money chips in your account that will be displayed. Along the right hand side you will see a red button that says 'Buy Chips', click this.
3 - After clicking on 'Buy Chips' in the PokerStars cashier lobby a deposit options screen should pop up. On this PokerStars deposit option screen you will see the methods available for you to deposit. This screen varies from country to country because of the different deposit methods available. To the right is what it looks like for Canadians, as I am from Canada. Click on each of the deposit methods for more information on each method. When you have found a method you would like to try out click on the deposit button.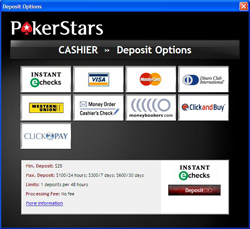 4 - In my example I have clicked on a Visa deposit. Whatever method you have chosen you must fill out the information it asks for correctly. Once you have double checked that you filled out everything correctly and your personal information listed on the right is correct you can click submit. If everything went through smoothly your funds will be in your account shortly and you will receive an e-mail. If there were any errors when trying to deposit the money you will get an error message and e-mail from PokerStars. Once the money is in your account you are now ready to play at the PokerStars real money tables.
PokerStars Deposit Methods Include - Instant eChecks, VISA, MasterCard, Diners Club International, Western Union, Bank Draft, Moneybookers, ClickandBuy, Click2Pay, Neteller, PaySafeCard, and WebMoney.
Other PokerStars deposit information - The minimum deposit is $10, with some options having a higher minimum. With your first deposit, your entitled to the match bonus when you use a promo code Pokerstars. Each country has different deposit options. There are limits on the amount you are depositing within certain time limits at PokerStars, e-mail support if you are a high stakes player and want the limits removed. Once you have an established PokerStars account you will be able to transfer money at PokerStars to other established real money players.