Many players are interested in looking at PokerStars screenshots to see what PokerStars is all about. We have created this page that has a couple different screenshots of PokerStars for players to look at. We have included a PokerStars lobby screenshot, table screenshot, screenshots of within the PokerStars cashier, and even a tournament filter screenshot. Click on the screenshots below to enlarge them and take a better look.
Use The PokerStars Marketing Code KOW500 at PokerStars for $600 FREE!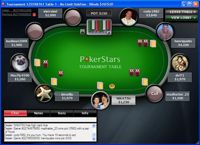 The first screenshot is of a PokerStars table. This specific screenshot was of a start of a NL tournament for real money. This is what the new updated tables look like at PokerStars. There are options you can play around with to make the table fit the style you like best. Some players like to play at the classic PokerStars tables instead of the new flashier tables. Each player can customize the table to how they like it.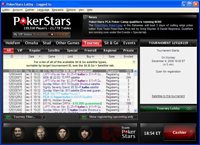 This second screenshot is of the PokerStars main lobby within the software. When you open up PokerStars and log in to your account this is where you will be. In this screenshot I was browsing the tournament lobby looking for a tournament to play in. As you can see along the top there are a bunch of different options you can choose to narrow down the tournaments. If players are looking to play in cash games they simply click on Hold'em, Omaha or Stud along the top.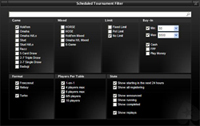 This third screenshot is of the PokerStars tournament filter. When players are in the tournament lobby they can click tournament filter along the bottom to bring up this screen. This is an awesome feature for players as you can narrow down the tournaments to exactly what you are looking to play.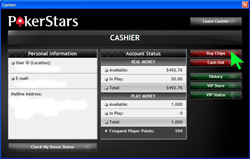 The fourth screenshot is of the PokerStars cashier within the poker software. This is where players can check their account balance for both real money or play chips. Players can also deposit by clicking the 'buy chips' button which we put a green arrow pointing to. Under that there is a 'cash out' button which can be used to withdrawal money. Players can also check their VIP and bonus statuses in the PokerStars cashier.
What are you waiting for? PokerStars is the World's Best Online Poker Room!
Click Here To Learn How To Get $600 FREE When Signing Up