Carbon Poker and PDC Poker are running a cool promotion for the month of December that will get players in the holiday spirit. Carbon and PDC are giving away a generous amount of cash and prizes to players playing at the tables in the month of December. This promotion is in the form of a scavenger hunt where each player can win up to $25,000 in cash and prizes. One of the best things about this Christmas promotion is that players aren't battling it out with each other, each player has a chance to win the same prizes.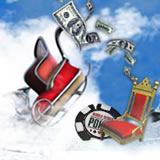 With this Carbon and PDC Poker Christmas scavenger hunt players will play at the tables to complete 25 different tasks in order to win up to $25,000 in cash and prizes. These tasks that need to be completed include finding the Secret Santa smiley, playing Secret Santa Sit and Go's, earning a certain number of 'Comp Points', and winning a hand with Mr and Mrs Claus. Secret Santa Sit and Go's are normal SnG's that will turn into the Secret Santa SnG when all players are seated. The tables will have a unique Christmas theme to them including Xmas Smileys and a festive deck of cards. Every time a player completes one of 'Santa's tasks' it will automatically be crossed off your scavenger list within 60 minutes of completing the task.
Each task has a prize that players will receive when they complete the task. Prizes range from $5 to $5,000 and even a $12,500 seat to a live poker event. Players must complete the tasks in consecutive order or go back and get the previous tasks on the list. For example if the player has complete tasks one to five and then also the eighth task, the player won't receive the prize for the eighth task until tasks six and seven are completed.
Carbon Poker and PDC Poker always come up with cool promotions for players. This Christmas Scavenger Hunt is a great promotion for players and really gives you a chance to win some extra money during the holiday season. If you currently don't have an account at Carbon or PDC Poker visit one of the two websites to sign up for a new account now - CarbonPoker.com or PDCPoker.com.