Tennis legend Boris Becker has recently become part of the PokerStars team. To celebrate Boris Becker joining the team PokerStars is giving players a chance to meet Boris and play against him in a Heads-up Battleship match.
Players can qualify for a trip to the Bahamas in which they will have a match against Boris Becker for a chance to win a seat at the 2009 PokerStars Caribbean Adventure.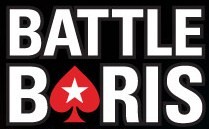 New players can receive $50 Free at PokerStars. Full details on the PokerStars Marketing Code page.
Players can play daily in the freeroll and FPP qualifiers for a chance to make it to one of the weekly finals. There will be four satellites run daily until November 8, in which 300 seats will be given away to the weekly final. The daily satellites are held at 13:00, 14:00, 19:00 and 20:00 (ET Time).
Players that finish in the top hundred of the daily satellites qualify for the weekly finals that are held every Sunday until November 9 at 13:00 and 19:00 (ET Time). In the weekly finals players that place 1-9 will win a seat to one of the two grand final tournaments. Players that finish 10-200 will win cash prizes.
The grand final tournaments are both held on November 16 at 13:00 and 19:00 ET. The top three place finishers in each tournament will win a trip to the Bahamas for the chance to play in a Heads-up match against Boris Becker. Players finishing 4-54 will qualify for a cash prize of up to $250.
The live finals with Boris Becker will take place in the Bahamas during the 2009 PokerStars Caribbean Adventure (January 5-10). Each finalist will get a chance to play Boris heads-up to try and win a seat into the PCA main event.
If you don't have a player account at PokerStars visit PokerStars.com for $50 free and your chance to play aginst Boris Becker.