PokerStars is running a promotion starting November 18th where US players have a chance to win a trip to New York City to meet Mats Sundin and watch a New York Rangers hockey game. PokerStars players can play in daily qualifiers from November 18th until December 7th.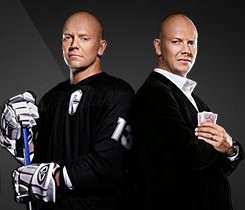 The prize package includes a visit to the Big Apple from December 11th – 14th where the winners spend three nights at a top Manhattan hotel and watch a live NHL game between the New York Rangers and Carolina Hurricanes at the Madison Square Garden as a VIP. Oh I forgot to mention, winners will be joined by Mats Sundin for dinner and at the game. The prize also includes $1,000 for spending cash and travel expenses.
There will be 5 "Meet Mats" prize packages given away in total. Players can enter daily freerolls from November 18th – December 6th where the top 50 finishers win a seat to the "Meet Mats USA Freeroll Final" that takes place on December 7th at 4:00pm (EST). PokerStars is also holding a $11 Meet Mats USA Final on December 7th at 5:00pm (EST) where three Meet Mats prize packages are to be won. Players can enter this directly or through the $2.20 Meet Mats USA Satellites that are running every night at 10:00pm (EST).
If you are as big of a hockey fan as me you will not want to miss out on this promotion being run by PokerStars. This promotion is only open to players living in the United States. If you don't have an account at PokerStars you can sign up by visiting PokerStars.com. Good Luck at the tables!