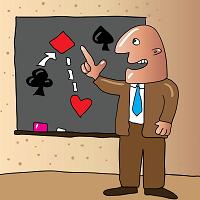 The following poker strategy articles are here to help players improve their game. These poker strategy articles are basic strategy articles that will help beginner to intermediate players. Some of these strategy articles have been written by friends who are very experienced players and can hopefully help improve your overall game.
How To Beat Short Stack Poker Players
Some players use short stacking as a strategy in poker. This article explains how to beat the short stacks at your table.
Semi Bluffing Poker Strategy
This article explains what a semi bluff in poker is and also explains who to use it against and when to use the semi bluff.
Use these Poker Strategies at the World's Easiest Poker Site - Bovada Poker
Value Betting Poker Strategy
Value betting is an important strategy when playing poker. This article talks about the strategy involved when using the 'Value Bet' in your poker game.
Continuation Bet in No Limit Holdem
In this poker strategy article you will find out about the continuation bet in NL Hold'em. It goes over the values of continuation betting on both great flops and poor flops.
Texas Hold'em Poker Tips
This strategy article was written by a friend who is a great poker player. It goes over basic tips for Texas Hold'em poker players.
Short Stack Strategy
This is a great article that talks about how to become a winning a poker player using the short stack strategy.
Sit n Go Strategy
Sit n Go's are one of the most popular tournaments for online poker players. This strategy article goes over strategy to use when playing a Sit n Go tournament.
Cash Game Strategy
Playing in poker cash games can be very profitable. This article gives players a few strategy tips on how to play cash games successful.
Turbo Poker Tournament Strategy
Turbo tournaments are becoming very popular in both online and live tournaments. This article talks about strategies to use when playing in turbo poker tournaments.
Satellite Tournament Strategy
This poker strategy articles gives you four great tips on how to play satellite poker tournaments successfully.
Hand Rankings Texas Holdem
This strategy article is for the newest beginners and will list the hands in Texas Hold'em from lowest to highest. There is also a brief description of the hands.
Building a Poker Bankroll
If you are having trouble increasing the size of your bankroll this strategy article will help. Find small tips that will help you move up the limits at the tables.
Avoiding Tilt in Poker
Many players have troubles controlling their emotions after a big loss or bad beat. This poker strategy article gives great advice on how to control your emotions and continue playing solid poker.
Starting Hand Odds Texas Holdem
This poker strategy article will help players realize the odds of getting certain starting hands in Texas Hold'em.
Online Poker Tells
Noticing tells at live tables is a lot easier than at online poker rooms. This poker strategy article will give you some great tips on ways to get tells from your opponents playing online.
Online Poker Tournaments Explanations
This article gives you explanations of the different types of tournaments you can choose while playing online poker.